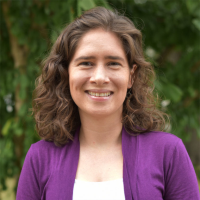 Department:

Global Gateway for Teachers, School of Education

Campus:

IU Bloomington
Over the past year, I have become interested in joining IUBSC due to two personal events in my life:
moving to remote work and

becoming a parent.
First, with the pandemic causing us all to move to remote work, I have been able to join many more virtual cross-campus events (including ones with IUBSC). The ease of joining from home without walking across campus reminded me of the many resources and interesting events always occurring that I often missed before.
With the return to our offices in the coming months, I am looking forward to continuing to intentionally leaving my department frequently and would like to be in a position help plan these events and also encourage other staff to leave their office silos once in a while.
Additionally, becoming a mom this year has motived me to become more involved in IUBSC to help advocate for events and programs for other working parents. The new reality of working and parenting makes me want to ensure interests and concerns are heard and that programming is also relevant for this large group of staff at IU.
I've lived in Bloomington since 2007 and worked in many roles at IU- from part-time positions, an assistantship in graduate school, support staff jobs, and now a professional staff role. Though I didn't imagine I would still be here, most of my time is now spent happily with my Hoosier husband and daughter, and attempting to keep the deer out of my garden.